17/10/14 ,
El 8, 9 y 10  de octubre de 2014 varios miembros del grupo de Recursos Marinos y Pesquerías fuimos invitados a participar en un seminario sobre reservas marinas organizado por que realiza la Fundación Fernando González Bernáldez, en el seno de un proyecto de investigación para conocer mejor los resultados biológicos, pesqueros, y socioeconómicos de las Reservas Marinas de Interés Pesquero (RMIP). El objetivo era identificar las mejores prácticas de gestión y los aspectos que puedan necesitar una atención prioritaria. En el participamos científicos, gestores y usuarios de las RMIP Ría de Cedeira, Cabo de Palos-Islas Hormigas y Cabo de Gata-Níjar. Durante estos tres días compartimos y discutimos los resultados biológicos, pesqueros y socioeconómicos de las reservas estudiadas, debatimos sobre los aspectos más relevantes de las formas de gestión y tratamos de identificar las mejores prácticas de gestión intercambiando experiencias.
El evento se realizó en el Centro de Extensión Universitaria y Divulgación Ambiental de Galicia (CEIDA) de Sta. Cruz (A Coruña) y aunque el tiempo no acompañó mucho esos días, la organización del seminario fue fantástica y resultó una experiencia muy enriquecedora. El jueves por la tarde nos desplazamos a Muros para charlar con pescadores de las cofradías de Lira y de Muros acerca de una nueva propuesta de ampliación de la RMIP Os Miñarzos, una vez más promovida por el propio sector. La reunión tuvo lugar en una acogedora antigua fábrica de salazón.
Durante los tres días que duró el evento tuvimos la oportunidad de compartir los resultados de nuestros trabajos en las dos Reservas Marinas de Interés Pesquero gallegas (Os Miñarzos y Ría de Cedeira), en las que llevamos trabajando desde hace ya más de una década, mucho antes de su creación. Por ello, queremos felicitar a los organizadores del seminario y agradecerles la invitación, especialmente a José Antonio Atauri Mezquida y Arturo López Ornat.
07/07/14 ,
Durante los días 8 y 9 de julio de 2014 el proyecto GEPETO celebra su conferencia final en el Museo do Mar de Vigo. Más información.
10/06/14 ,
22/05/14 ,
Con motivo de la celebración del Día de la Ciencia en la Calle, en colaboración con O Canto da Balea, diseñamos un calendario anual para consumir pescados y mariscos de manera responsable. Hemos propuesto una especie de pescado y otra de marisco para cada uno de los meses del año, seleccionando las artes de pesca más sostenibles y respetando sus respectivos períodos reproductivos. Además añadimos el tamaño mínimo legal. Este es el resultado: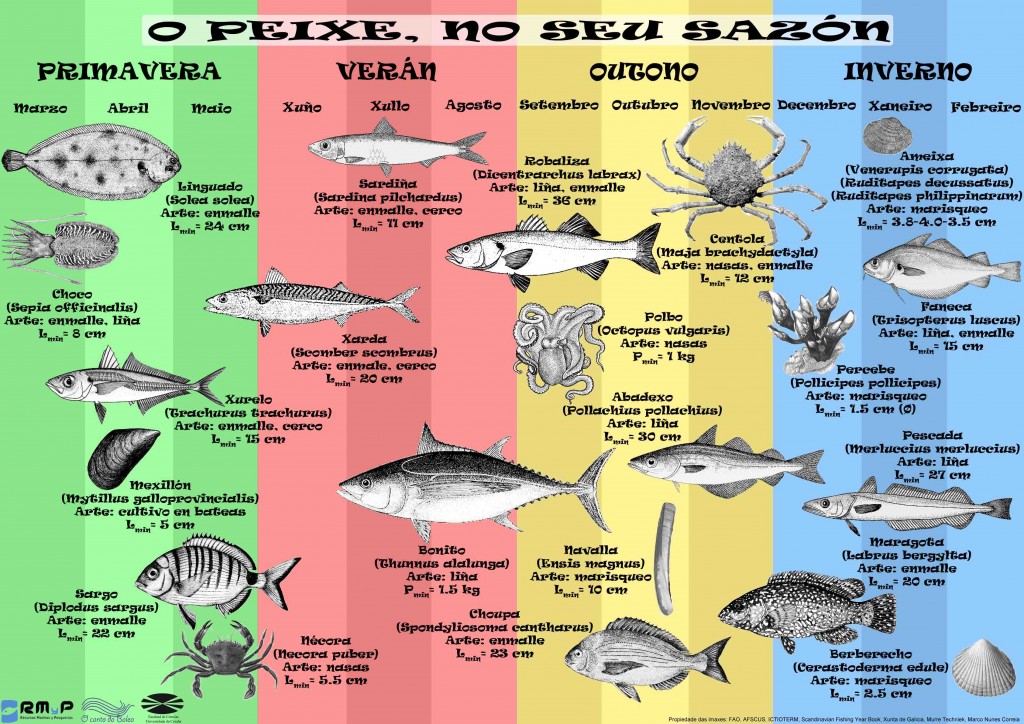 11/04/14 ,
La Voz de Galicia publicó el pasado 16 de septiembre de 2013 esta noticia sobre algunos de los resultados del caso de estudio en Galicia del proyecto GAP2:
26/03/14 ,
Entre el 3 y el 6 de marzo de 2014, Pablo Pita asistió al II Simposio Fishery-Dependent Information de Roma. Este es el resumen de la comunicación oral que presentó:
Different alternatives to traditional top-down management have been implemented over the last years in Galicia. Since co-management, largely based on TURFs, is successfully managing some marine benthic invertebrate fisheries, the fishery sector is interested in expanding bottom-up initiatives to other fisheries. The new CFP is also pushing to increase fisher's involvement in the management of their fisheries, thus European bodies are funding co-management projects, like GAP2 and GEPETO.

GAP2 is using fisher's TEK for mapping habitats and fishing grounds, and also data loggers and log-books to allocate CPUE of the fisheries in a study area (Ría of Arousa). GEPETO is focused in the management of the Galician octopus fishery.

The octopus fishery is a paradigmatic example of top-down management that generates many conflicts between fishers and policy makers. Managers complain that their regulations are routinely ignored, while fishermen argue that these regulations are implemented without their participation.

Meetings between fishers, scientists and policy makers have been performed to overcome a confrontation that is putting at risk one of the most traditional and economically relevant fisheries in Galicia. In the meetings, organized by GEPETO, information of the octopus fishery was provided by GAP2: interviews were performed to identify the fishing grounds of the fleet, while information on fishing routes and catch, collected in data-loggers and daily log-books, was used to obtain the distribution of CPUE.

We hope that, as a result of the meetings, will be opened a scenario that offers new perspectives for the management of the Galician octopus fishery.
Aquí la presentación:
Y esta es la comunicación en formato poster que también fue presentada en el simposio: